Our eyes were on Toby Rodriguez as he walked in long strides through the grass between the cars and the cooking station he'd set up on his porch. He was carrying the object of our culinary curiosity, tucked in this arm the way a running back cradles the ball.
It was roughly the shape of a football too, if a little smaller, but this was no pigskin. In fact, it was a pig stomach, stuffed with sausage and smoked. It was ponce, and we'd just spent a sunny spring day tracking it across its native habitat, the butcher shops of the Cajun prairie.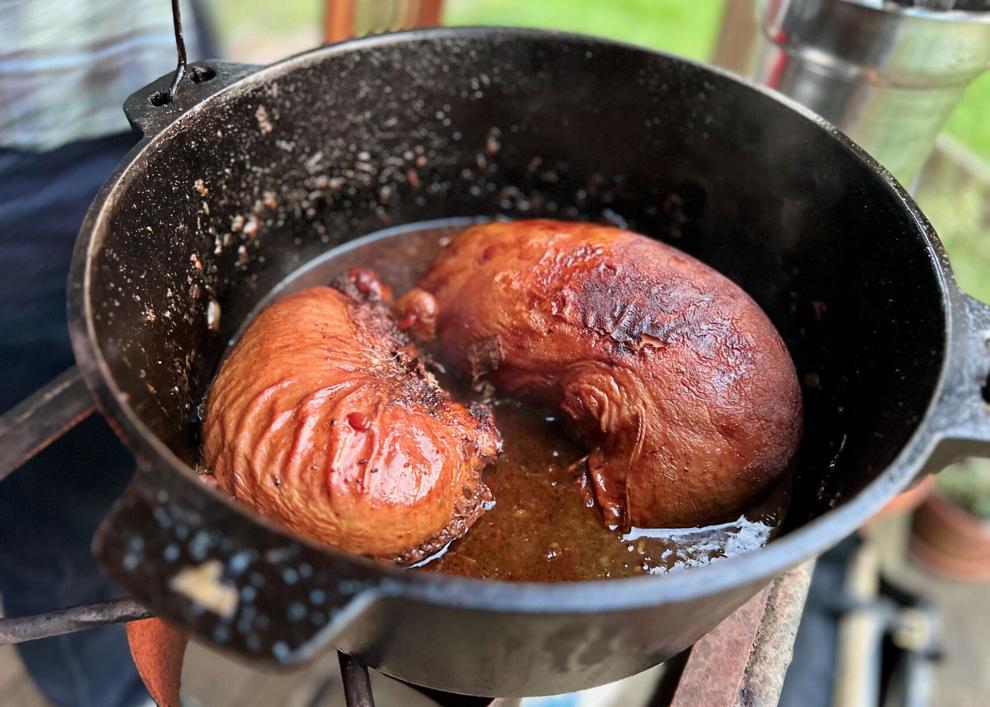 We were about to try it, or so we thought. The big reveal was still hours of cooking away. It would be worth every moment.
Meat obsessives unite
One of the ways you can assess the cultural value Louisiana people put into their food is the voracious appetite they have not just for eating it but for talking about it, too.
Around Acadiana, there is simply no end to the talk that revolves around family food traditions, the ways they unite people, the differences on which intensity deepens. The Cajun butcher shops that supply many of these traditions prove one particularly rich vein.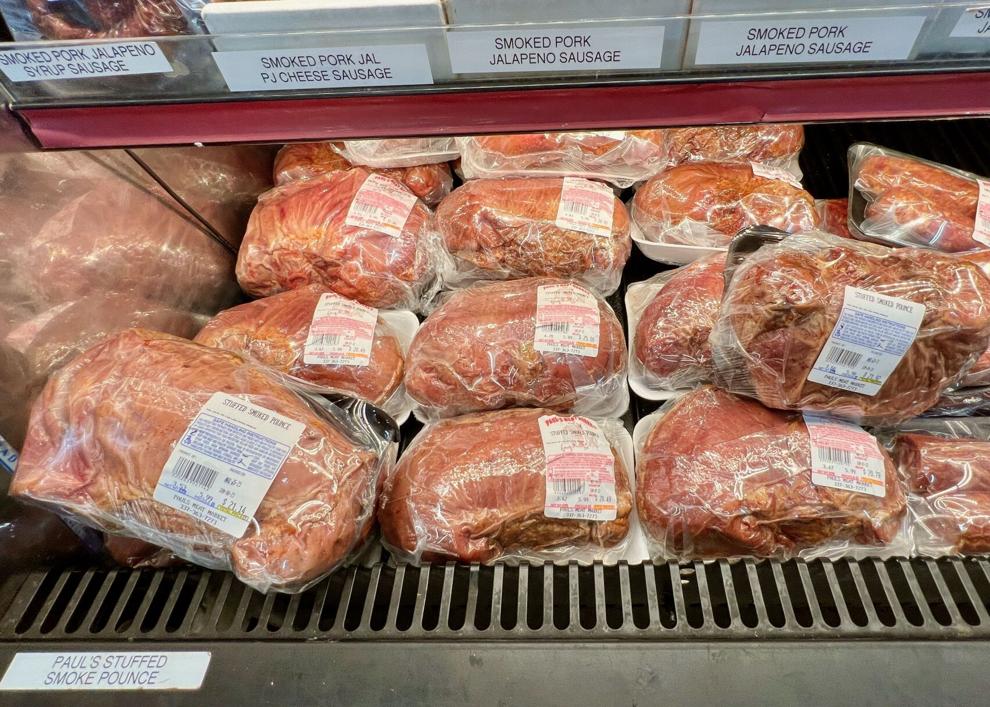 Food talk spurred this whole ponce outing. I was discussing haggis with someone far more expert in the nuances of that stuffed sheep's stomach than I when we reached the subject of its closest corollary in Louisiana. That would be ponce, and suddenly it became clear that we had to go forth and find some.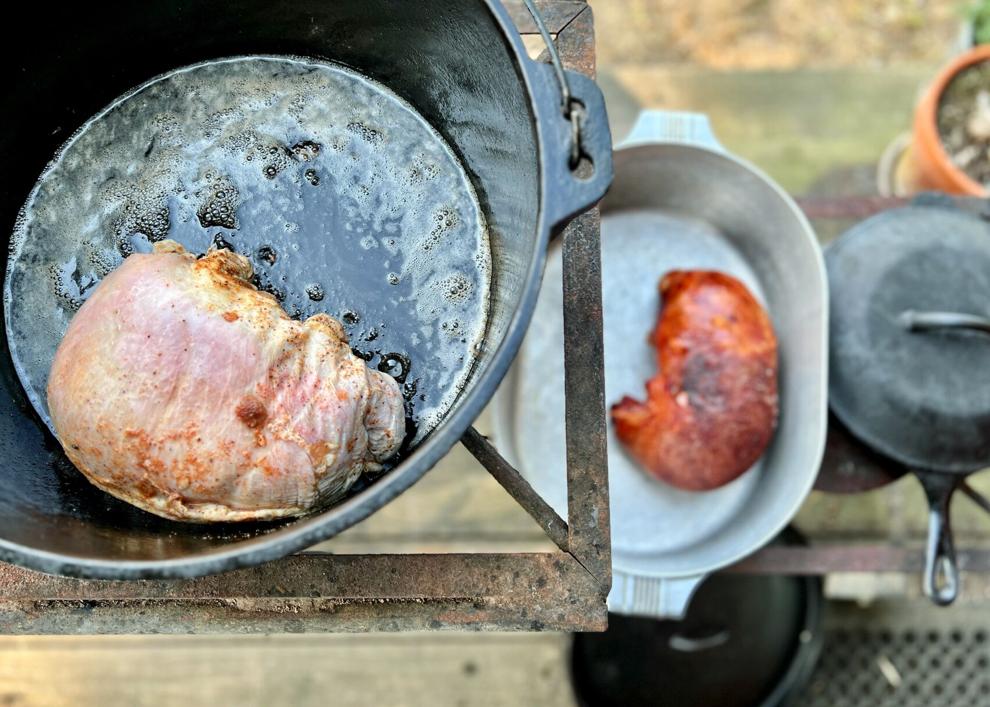 I had been in touch recently with Karlos Knott, co-founder of Bayou Teche Brewing, for a story about how this pioneer of modern Louisiana craft beer decided to do away with distribution and focus solely on his own taproom. Naturally, Knott and I ended up discussing boudin quite a bit. So this time I turned to him for advice on ponce.
Things escalated quickly. Though I was fishing for recommendations, we instead ended up on a mission with collaborators.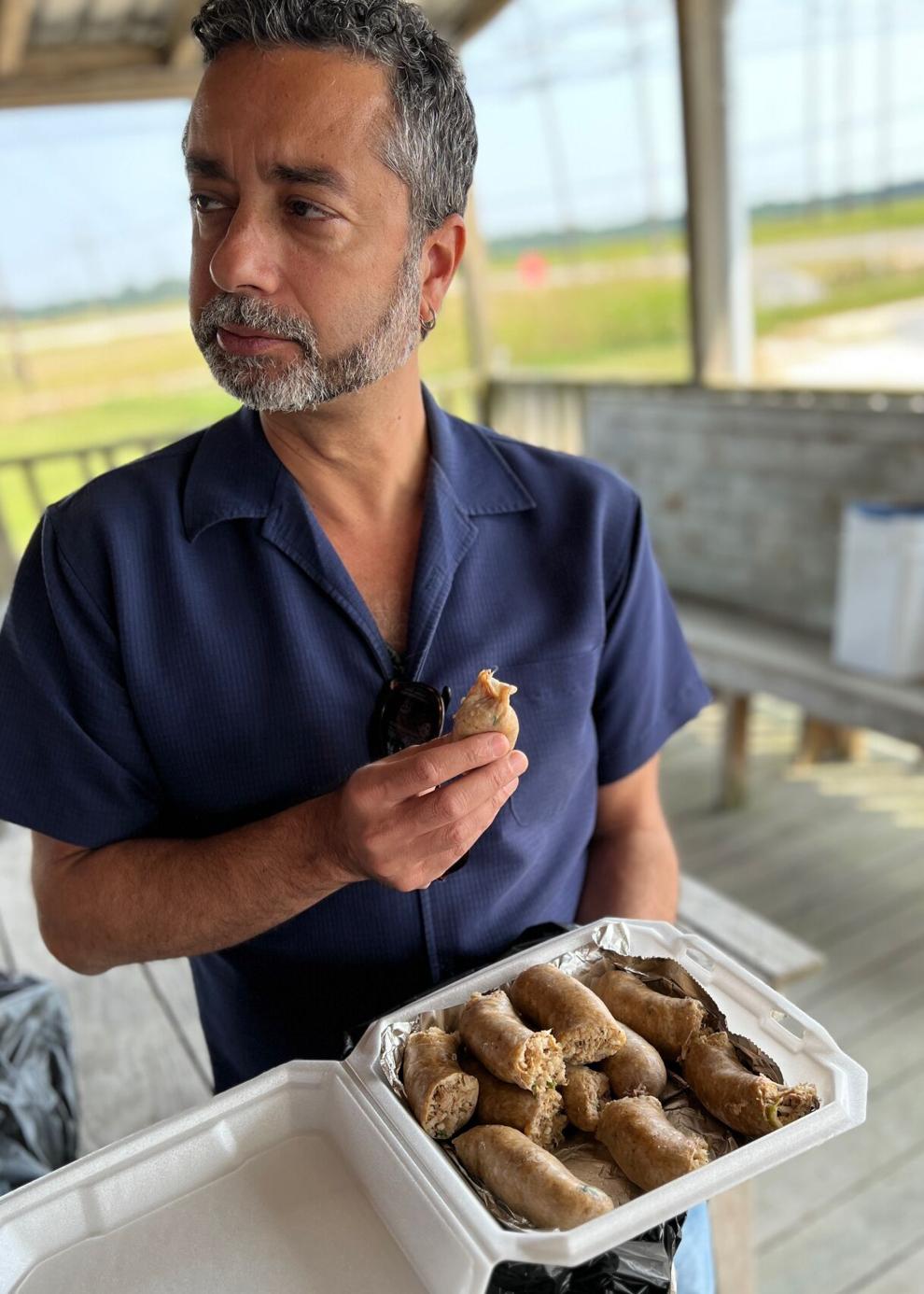 That included Sami Parbhoo, a wine industry pro who is heading up this year's bicentennial activities for Lafayette Parish. He also happens to be a guy who will regularly call for a smoked meat run and convene like-minded meat obsessives for foraging trips around Acadiana.
Rodriguez, meanwhile, is known for the boucherie events he conducts around Louisiana, showcasing and passing on the traditions behind the hog butchering that was once a communal underpinning of rural life.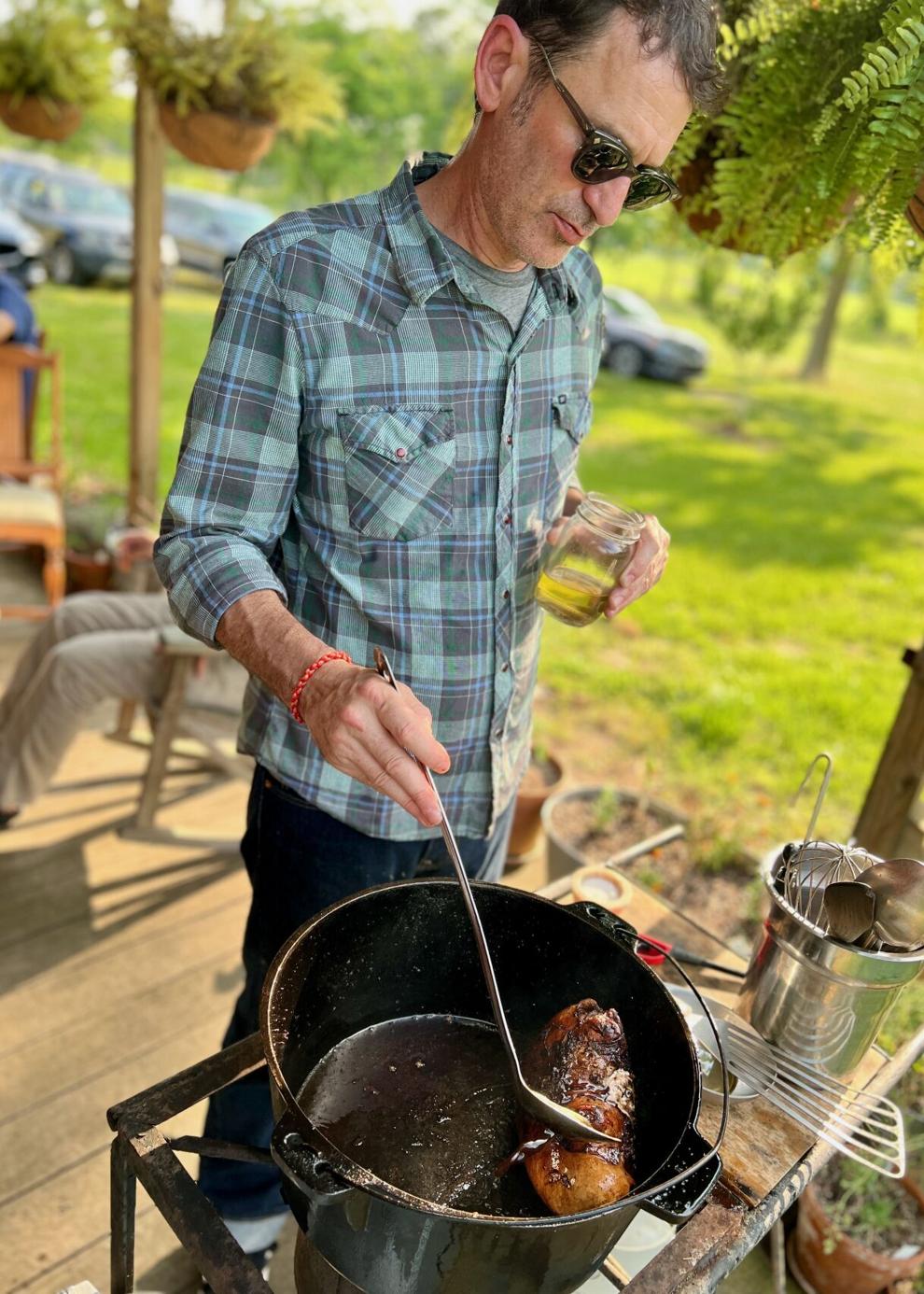 The boucherie gives us boudin, cracklin', andouille, tasso and other staples of the Cajun larder. It also gives us ponce and its closely related cousin chaudin, though these keep a much lower profile. They're usually found in butcher shops among the assorted "specialty meats," like stuffed beef tongue.
Parsing the ponce
Our plan came together almost on a whim, and it stayed loose. We dubbed it Tour de Ponce, after the better-known French bicycle race.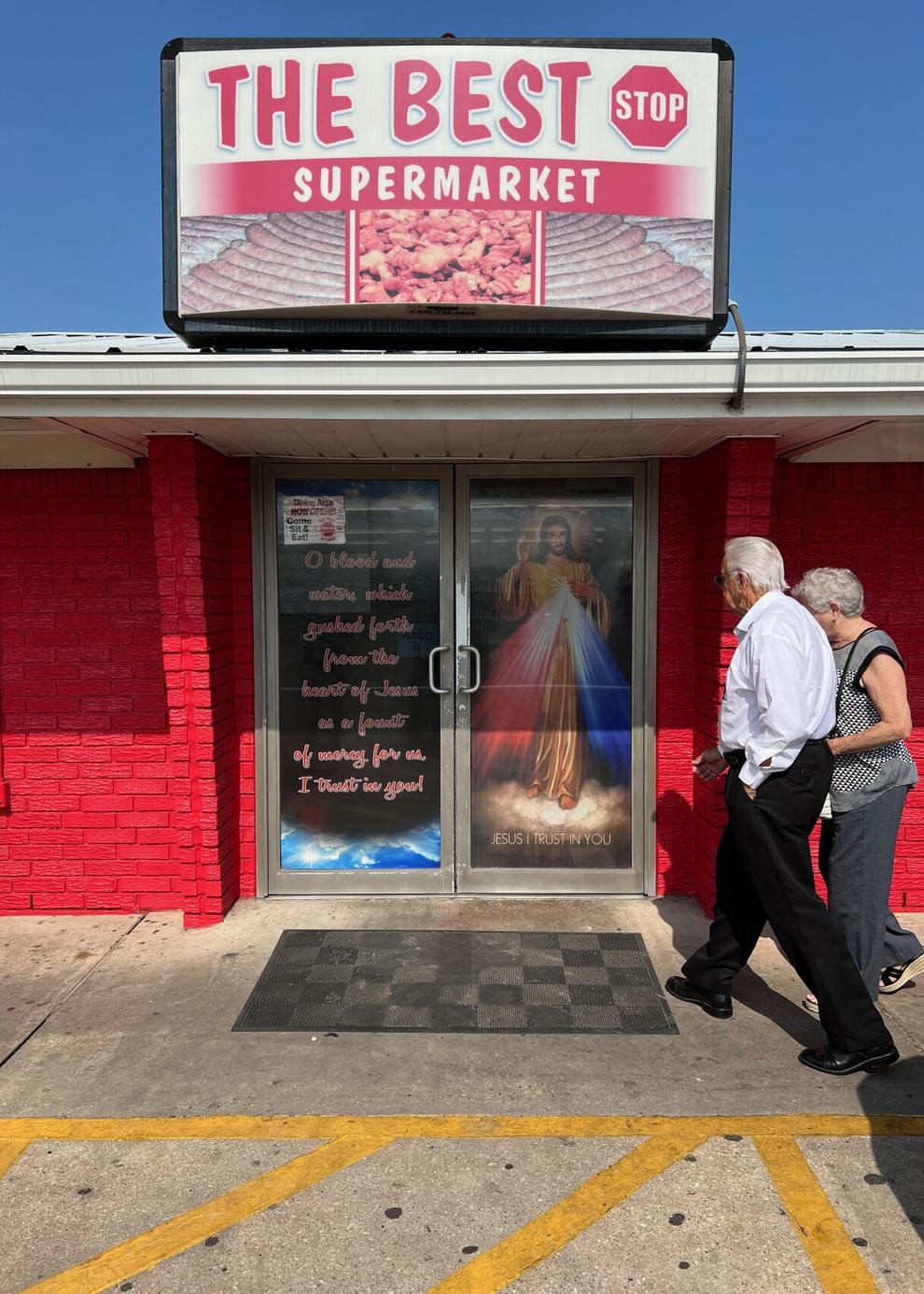 We ended up visiting nine butchers between Interstate 10 and Ville Platte, including Best Stop in Scott, Nonc Kev's in Rayne, Mowata Store in (where else?) Mowata, the Superette in Eunice, Rhea's Specialty Meats in the hamlet of Basile, Mel's Grocery in Mamou, Teet's Food Store in Ville Platte and Paul's Meat Market, with its splendid selection of smoked meats, also in Ville Platte, and B&S Grocery, another Ville Platte meat market hidden within a gas station.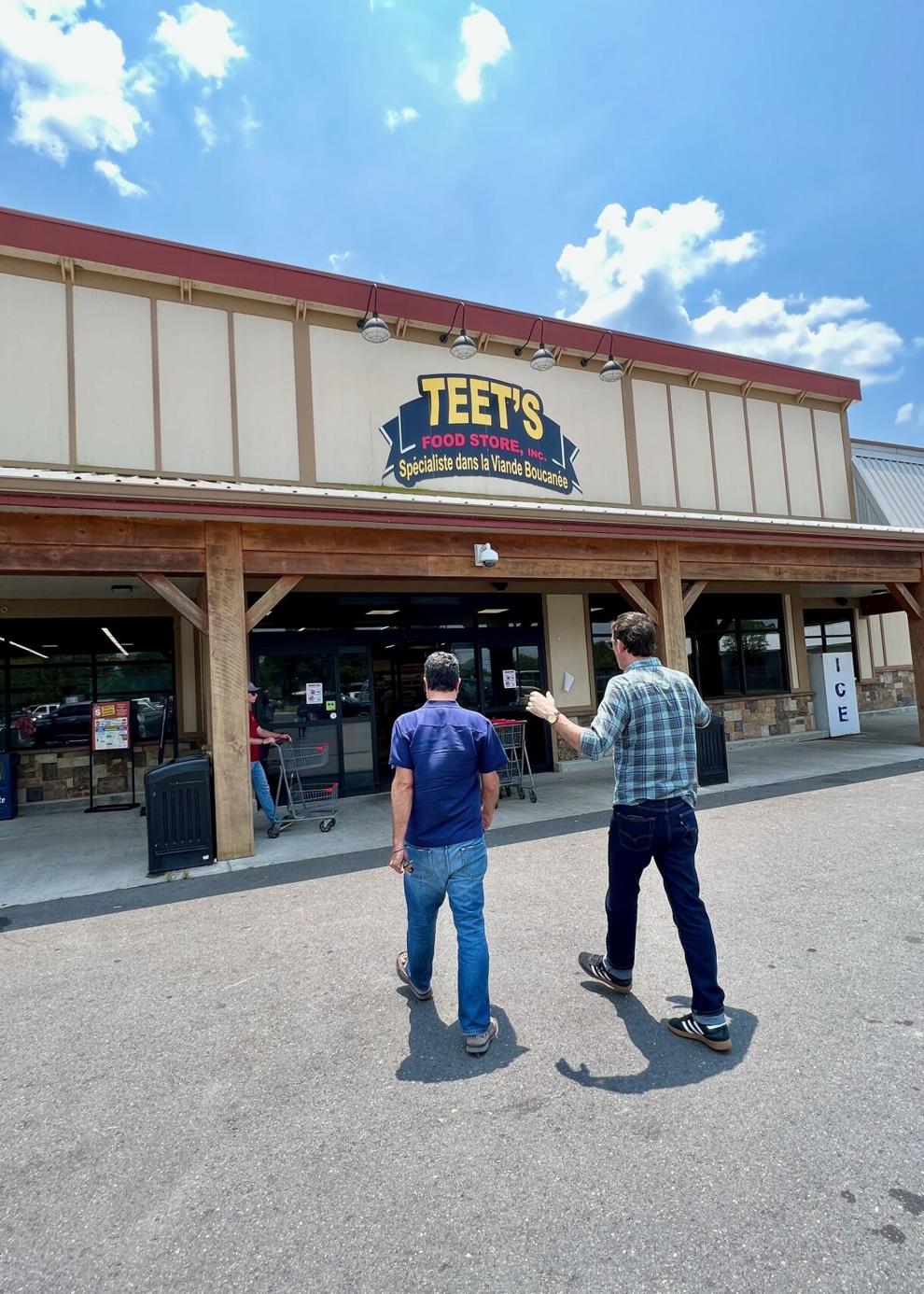 The examples drawn from each are essentially an alternate expression on a butcher shop's house sausage blend, packaged in pig stomach to be prepared and enjoyed differently, more like a slow roast than the quick grill-and-gobble fate of many sausages.
They can vary in size from 2 to 5 pounds and are typically priced between $5 and $7 per pound.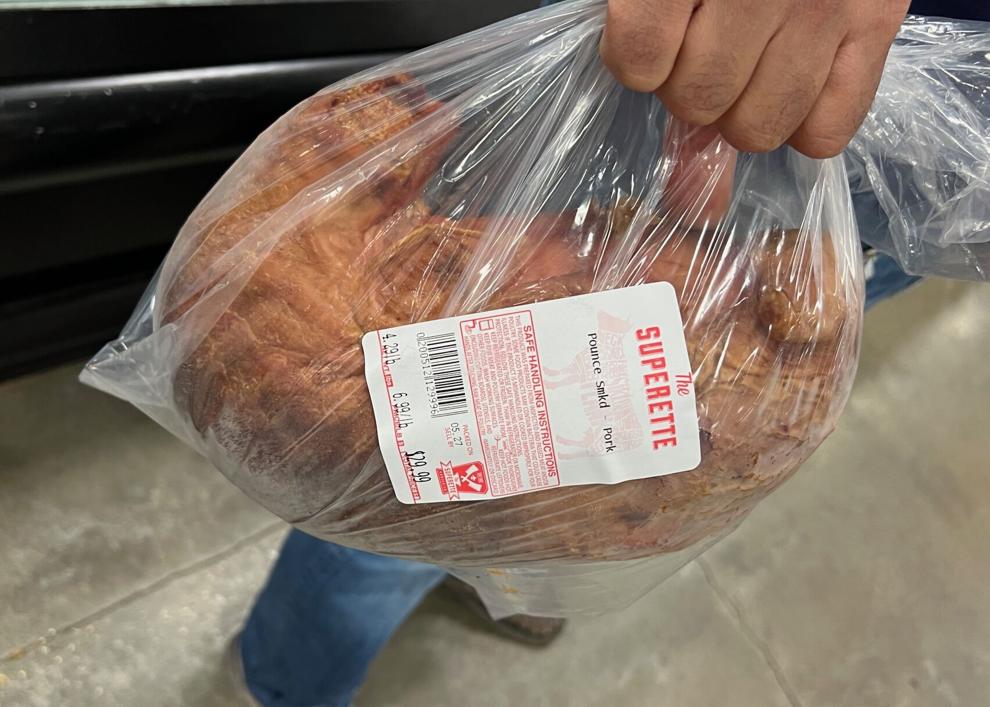 Any stomach is a ponce, from the French word panse, or paunch. When it is stuffed it becomes chaudin.
But francophone Louisiana food terms don't just sit there cooperatively on the plate. The words ponce and chaudin are sometimes used interchangeably, though generally, they differentiate the smoked (typically dubbed ponce) versus not smoked (chaudin). However, even this is not a universal naming standard, and it changes by sub-region around Acadiana.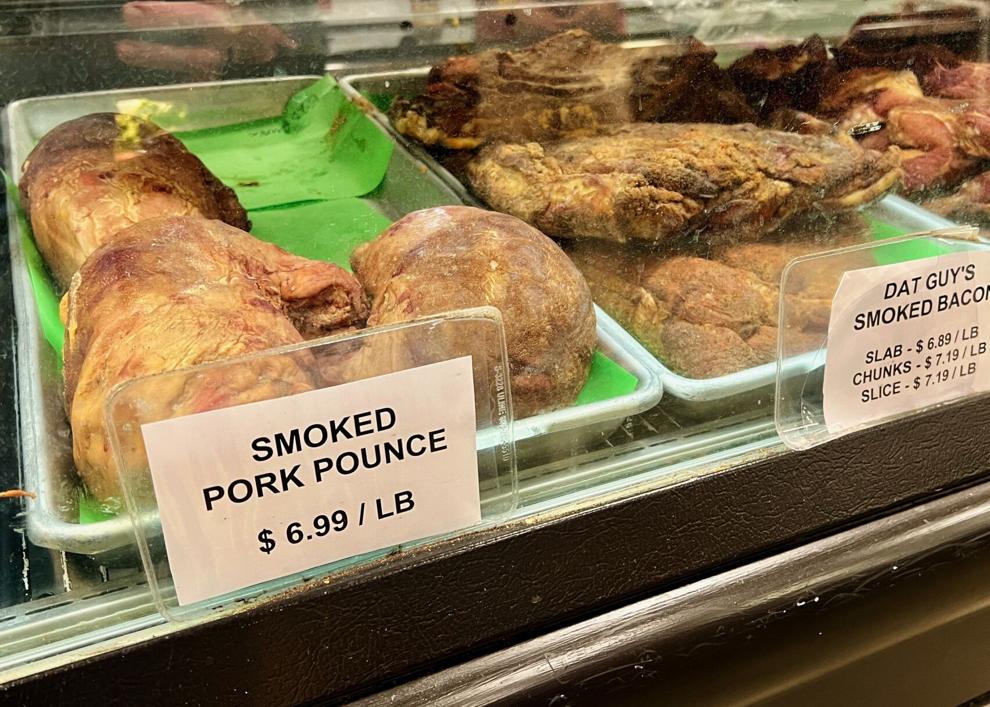 Variable spellings add to the jumble, with pounce and panse among the possibilities. We also encountered "green pounce" (meaning not smoked) at Mel's and ponce with jalapeño cheese at Teet's, a one-time gas station butcher shop that has greatly expanded over the years to become a full-fledged grocery, where some staff wear shirts reading "Peace Love and Ponce."
Snacking through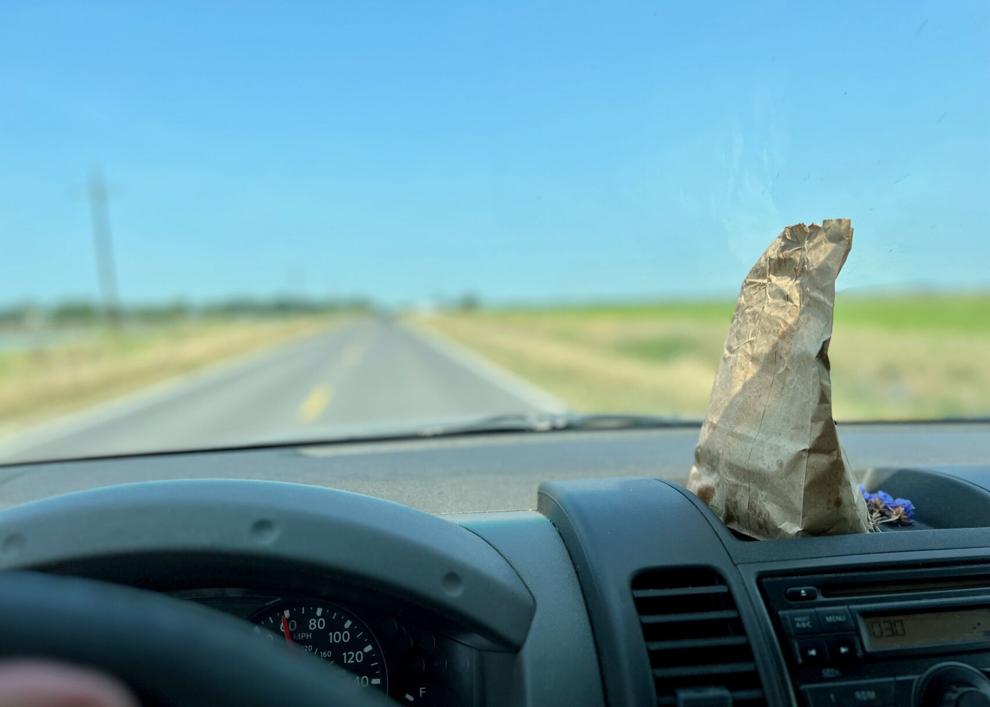 Traversing ponce country meant touring the prairie in all its late spring splendor. The broad horizon was a two-tone of blue sky cut by a distant tree line, green fields and crawfish ponds giving some of the last of harvests of the season. Yellow flowers wreathed the roadside ditches and silver rice silos gleamed around this bend or past that crossroads.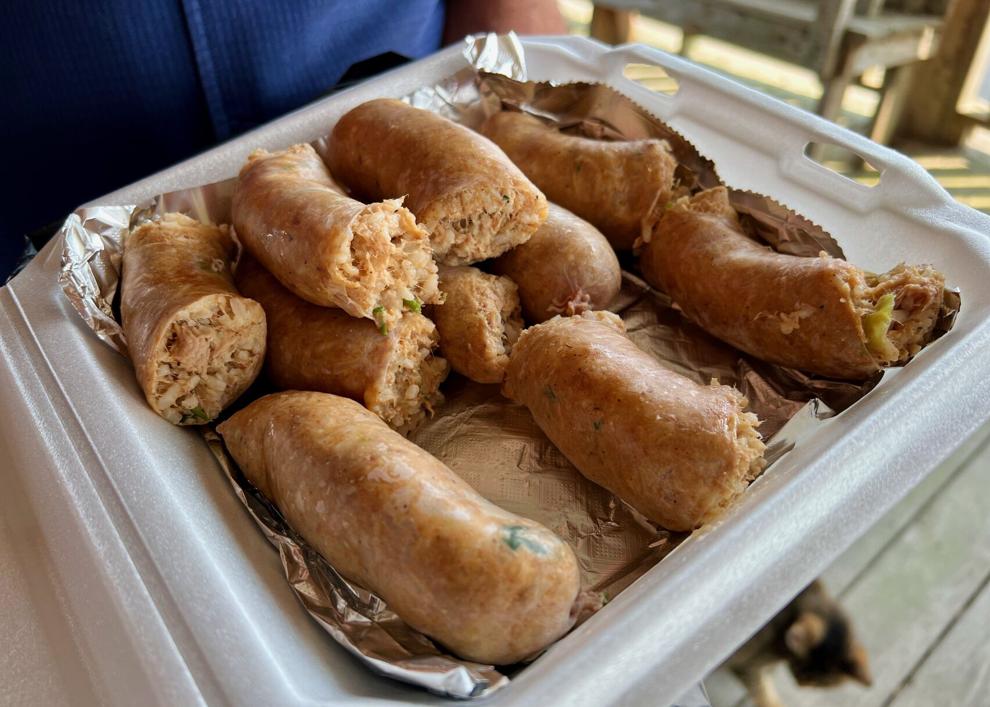 Getting from one shop to the next was just part of the fun, as was sampling the hot boudin and assorted other meaty bites from one counter to the next.
But ponce was our purpose. There is an acquisitive frenzy that can take hold on such a Cajun meat tour, as my freezer back home can attest. As the stops progress, it changes from shopping to collecting.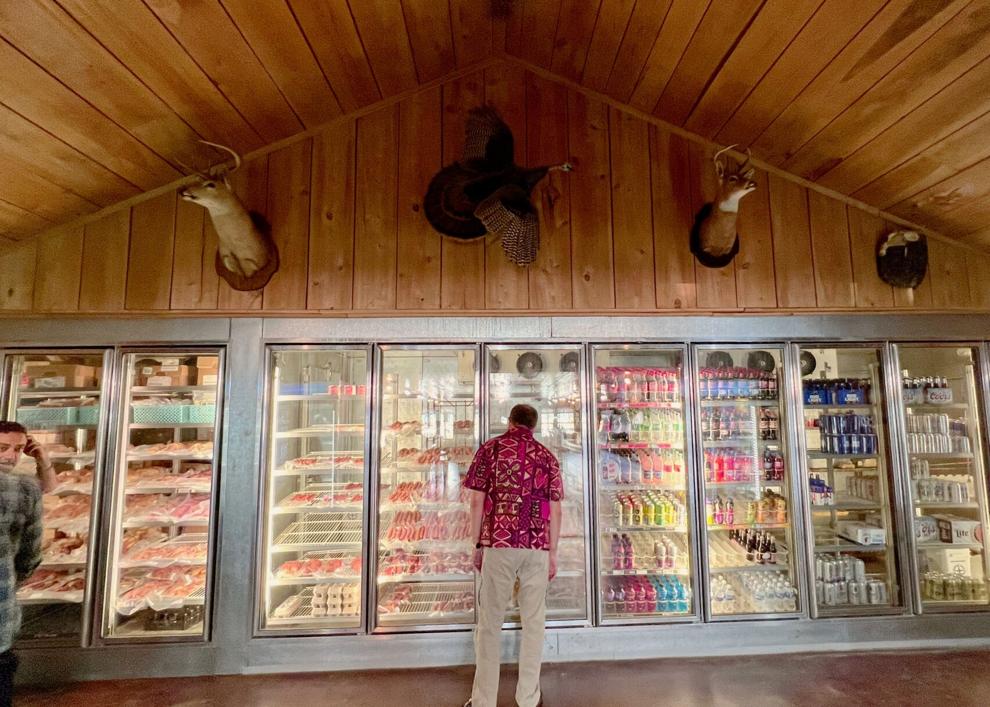 The looseness of tour planning is perhaps best revealed in my plan for what to do with an ice chest filled with numerous stuffed pig stomachs: I had none.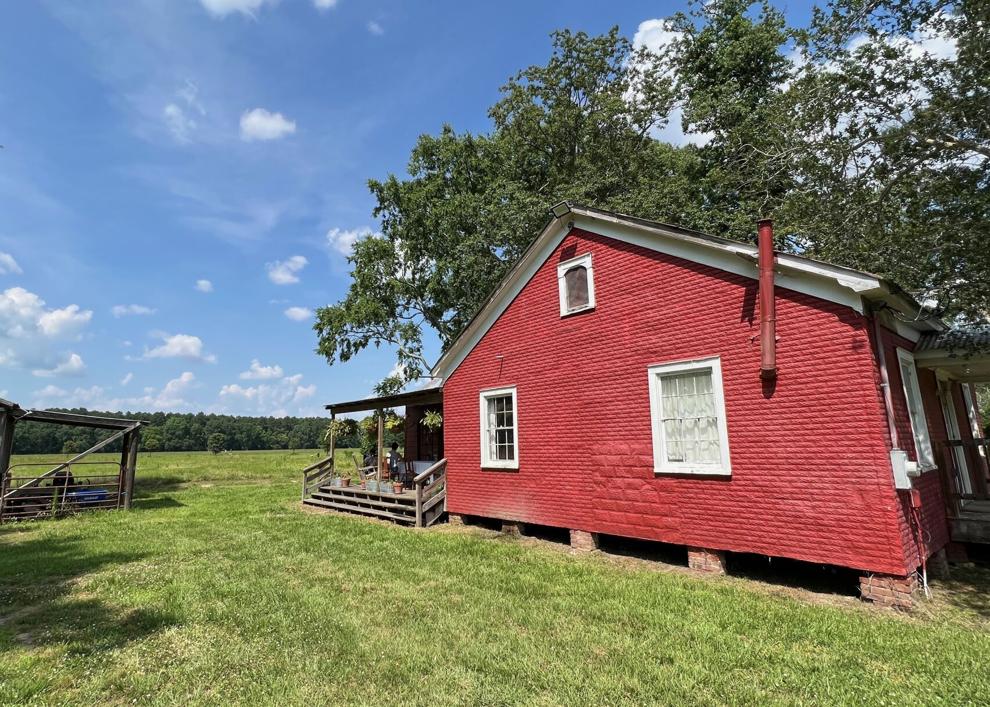 But Rodriguez snapped into action. The tour had to conclude with a tasting, he decided, so we proceeded to his home, a small red farmhouse set on a rise of prairie grass in Grand Coteau. Friends dropped by from around the area, alerted to a gathering. While the ponce and chaudin began their long, slow preparation, Rodriguez fixed up a stove full of smothered turkey wings and lima beans and a fresh salad to tide everyone over.
Cooking the ponce, he advised, "is a process."
Digging in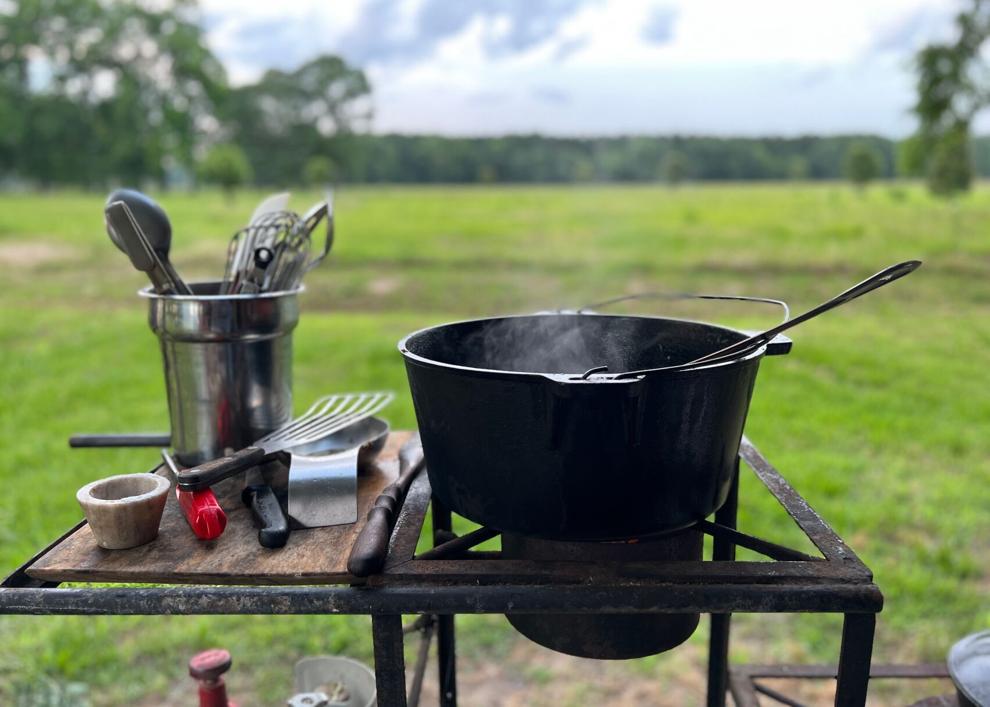 He was not kidding. Bringing a ponce and a chaudin from ice chest to what Rodriguez judged proper condition took roughly five hours.
First, the stomachs were browned in a black pot with the brown butter constantly ladled back up over the top.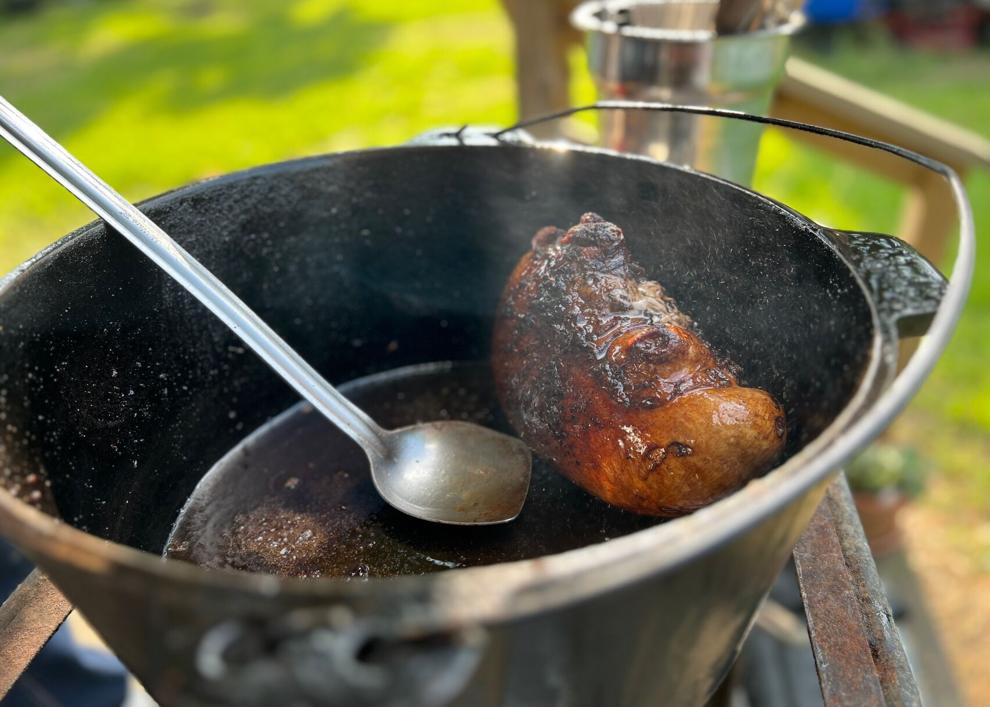 They then went into the oven at a low temperature while the black pot was filled with onions and garlic and peppers and, later, tomatoes cooked down to the point where, as Parbhoo put it, "they didn't know they were tomatoes anymore." In time measured by wine bottles and beer cans, that mixture became a black paste and was ready for the ponce and chaudin to join it again in the pot.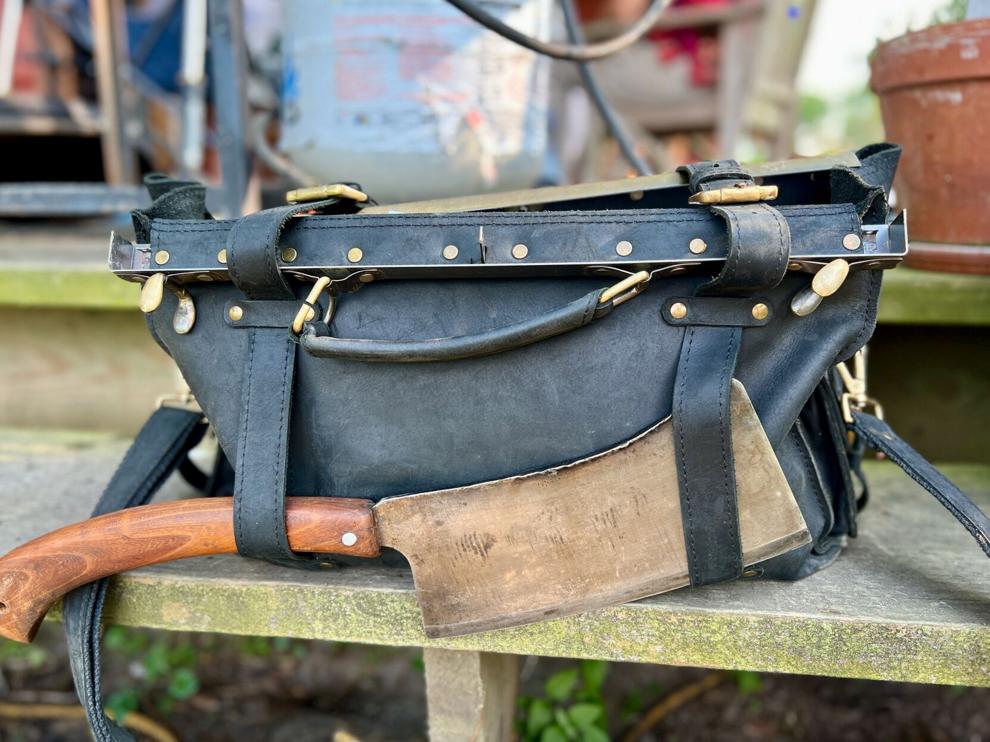 Several hours later, as the composition and constitution of the gathered guests changed, it was all finally ready to eat.
The ponce was smoky and spicy, with the sausage acquiring a richness like corned beef and a dense texture across its brick red slice. The casing (the stomach) was crisp to the bite.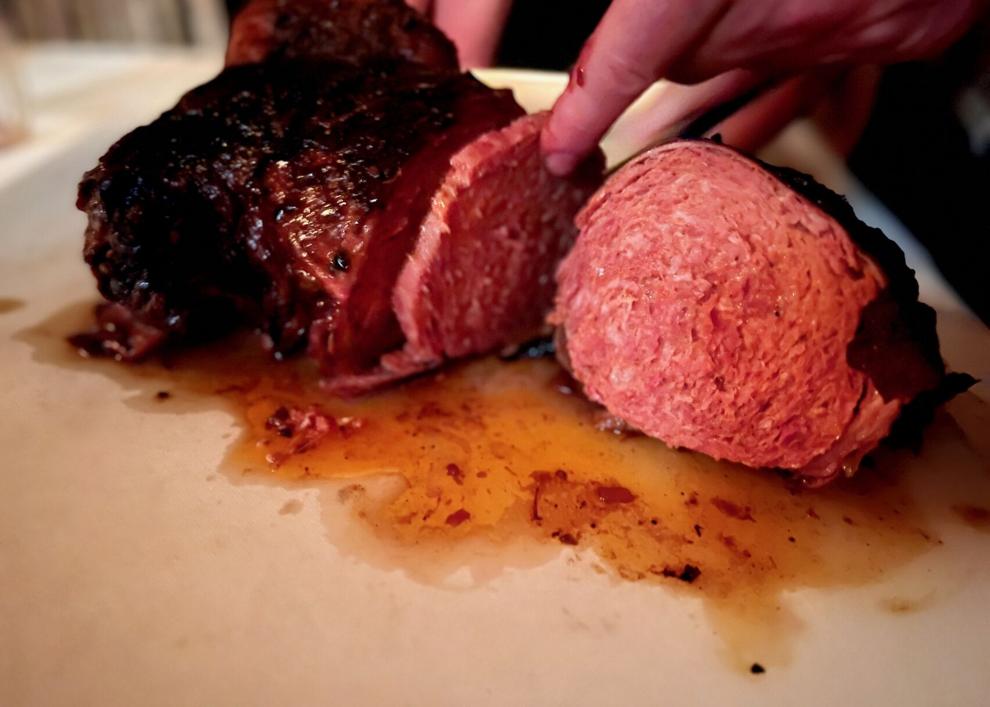 The chaudin, by comparison, seemed to more readily absorb the other flavors with which it was cooked. The sausage gave just a little sour funk, and the casing had a resilient chew, leaving no mistake about the particular viscera in hand.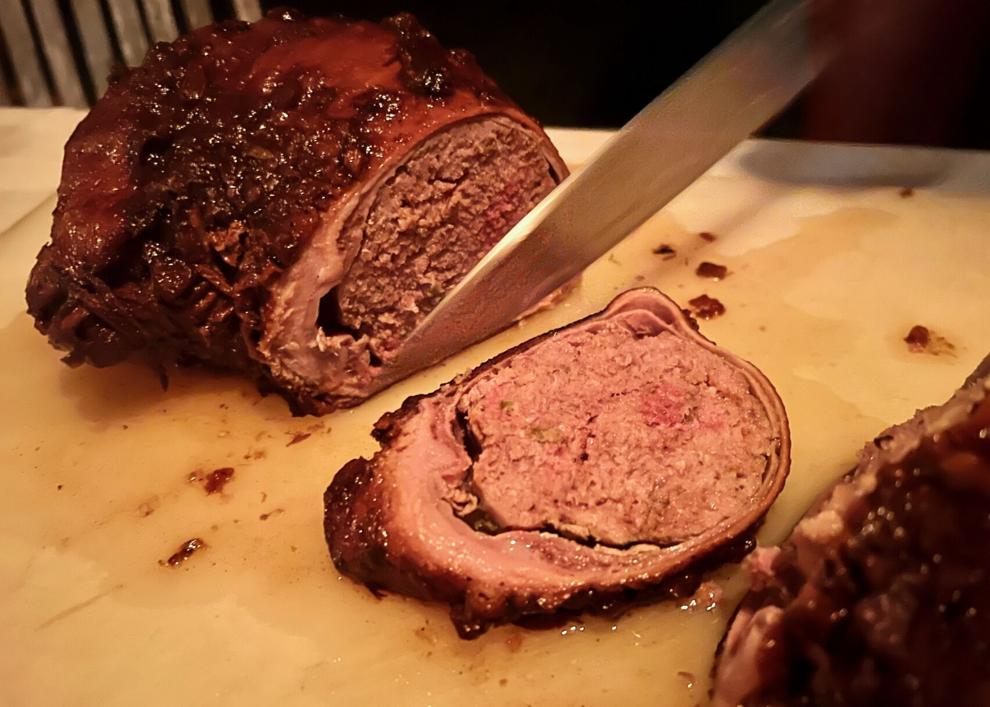 Our hosts sang the praises of ponce as late-night food, as leftovers and sandwich fixings on Evangeline Maid white bread with mayonnaise. Mostly though, the meal stirred memories of family dinners, of holidays where one of these seemed always to have a place at the table.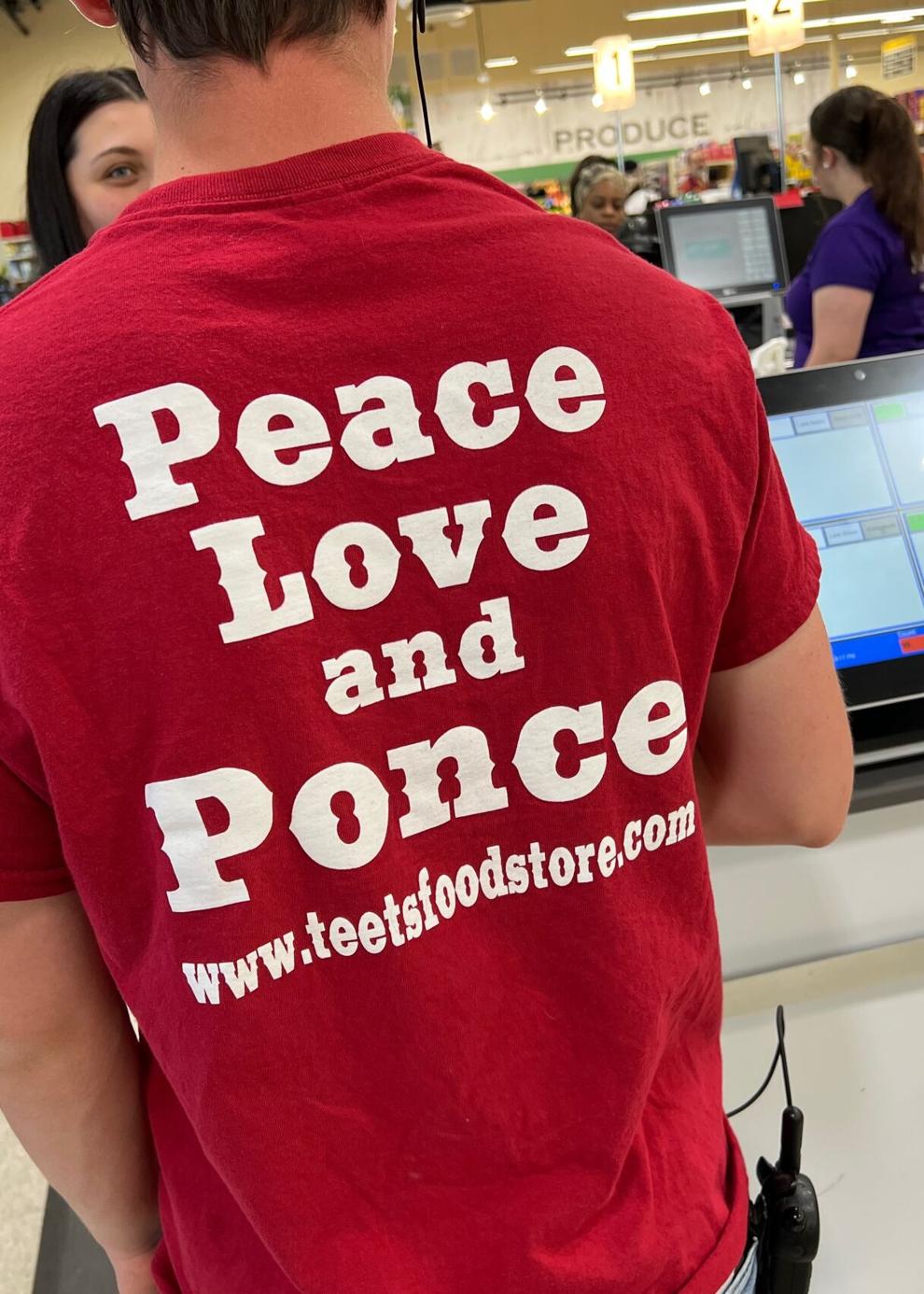 It's home cooking and a special occasion thing, our tour partners agreed. This drew the question of why something so specialized seems always to be in inventory in so many butcher shops. Rodriguez didn't have to think long on that one.
"Because a lot of people here have special occasions," he said.
This Tour de Ponce qualified as its own.