The former Lindy Boggs Medical Center has sat abandoned near the foot of Bayou St. John since Hurricane Katrina. For most of that time, it's been a fetid mess of standing water, graffiti and garbage, with broken windows and failed fencing that's made it a haven for squatters.
And despite promises from a succession of owners, none of the many rehabilitation projects at what's often still known as the old Mercy Hospital site have come to pass.
On Monday evening, Mid-City resident Mary Mysing-Gubala gave voice to what about 100 of her fellow neighbors seemed to be thinking as city officials and the latest owners of the building tried to explain why it still remains a hulking eyesore.
"It can't go on like this anymore," said Mysing-Gubala, to a round of applause.
Neighbors of the building said that the situation has worsened recently. The building appears to have attracted more squatters after sweeps of the Plaza Tower in the Central Business District and the old Naval building on Poland Avenue in the Bywater have moved people on from those blighted sites, according to Thomas Ecker, president of the Mid-City Neighborhood Organization, who organized Monday's meeting.
He's also hearing more Mid-City residents complain about crime emanating from the building, which occupies four acres on Norman C. Francis Parkway near the Lafitte Greenway.
"I certainly hear you," said William Hoffman, a representative of the company that bought the property two years ago with plans to convert the building into a 262-bed elder care facility. He is partners in the venture with Woodward Design + Build CEO Paul Flower.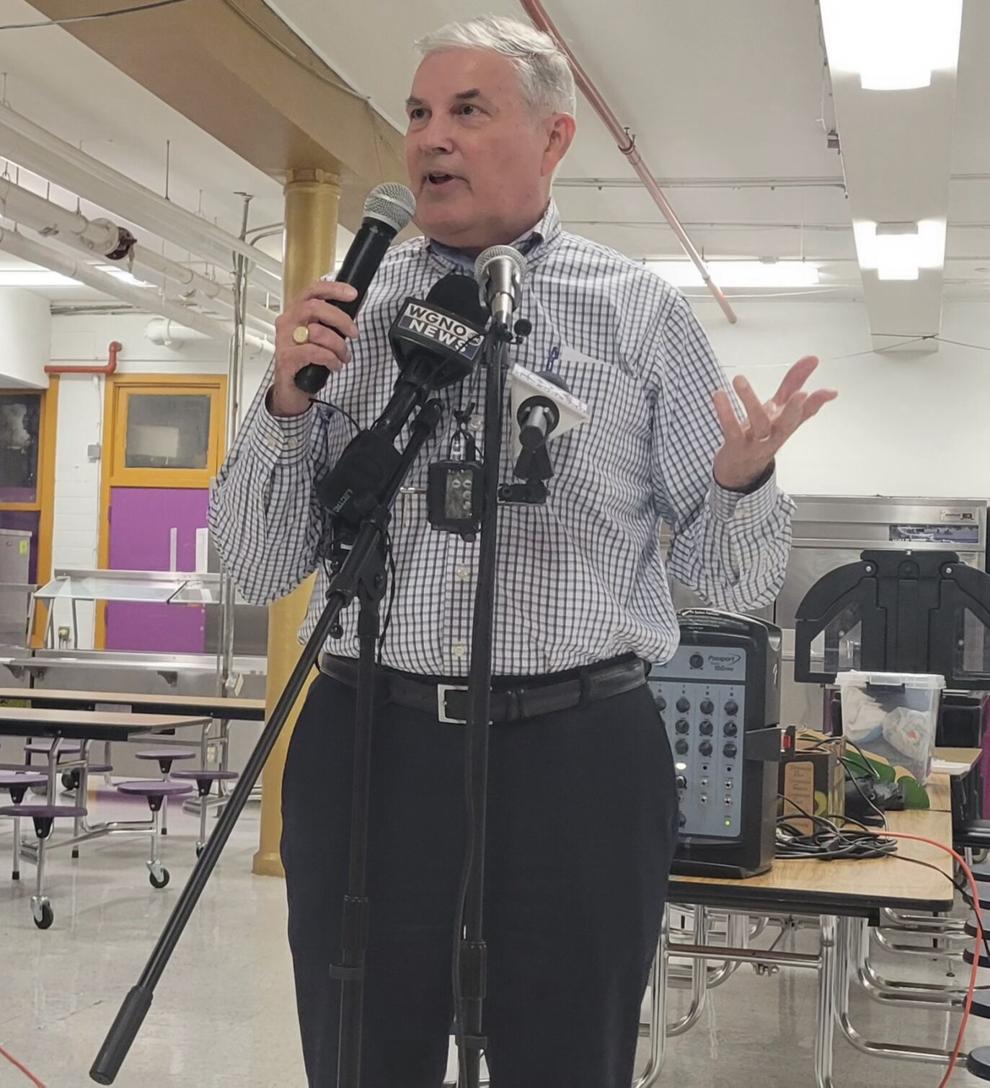 Those plans, he said, are dependent on federal subsidies and there is little his firm can do to move forward on the development until those funding arrangements are sorted out.
Hoffman also said their efforts to secure the site had been defeated by determined thieves and other trespassers.
Getting tough
Thomas Mulligan, Deputy Chief Administrative Officer at City Hall, whose responsibilities include dealing with blight and neglectful owners, told residents who attended the meeting at Warren Easton High School that new state legislation enabled the city to get tougher with property owners.
He said that he wants to give owners of blighted properties like the medical center a chance to try and bring them back into commerce. But he promised Mid-City residents that the city would take action, including potentially  demolition, if a solution couldn't be found.
Lesli Harris, City Council member for District B, which encompasses the site of the old hospital, noted that pressure from city officials on the owner of the blighted Plaza Tower had resulted in improvement.
"We have taken steps to have Plaza Tower secured and we're hoping to do the same with Woodward," she said.
Blighted structures
The focus on the medical center at Monday's meeting comes as City Council members and officials in Mayor LaToya Cantrell's administration are facing increasing pressure from New Orleans residents to do something about a number of massive eyesores across New Orleans.
Last year, the city and developer Joe Jaeger, who owns the old Naval building, said they were officially closing and securing the site after years of complaints from Bywater residents of squatters and crime.
Jaeger also owns the Plaza Tower, which has been a focus of renewed resident ire ever since a bicyclist was injured by falling debris in 2021. Last month, the threat of more falling debris forced the closure of a nearby street until more netting could be placed on the building to secure its façade.
Woodward bought the hospital site from Jaeger in June, 2021, but its redevelopment plans have so far failed to get approval for subsidies from the U.S. Department of Housing and Urban Development. Woodward CEO Paul Flower has said that those subsidies are needed to make the $100 million project work financially. Woodward would also have to rely on a federal historic building rehabilitation subsidy program.
On Monday, Hoffman said his firm has applied for a waiver to get past an obscure HUD rule about the building's basement being vulnerable to flooding. He expects to get approval for that within a month; but even if approved, it would then take another nine months to a year before they could get financing in place and start rehabilitating the building.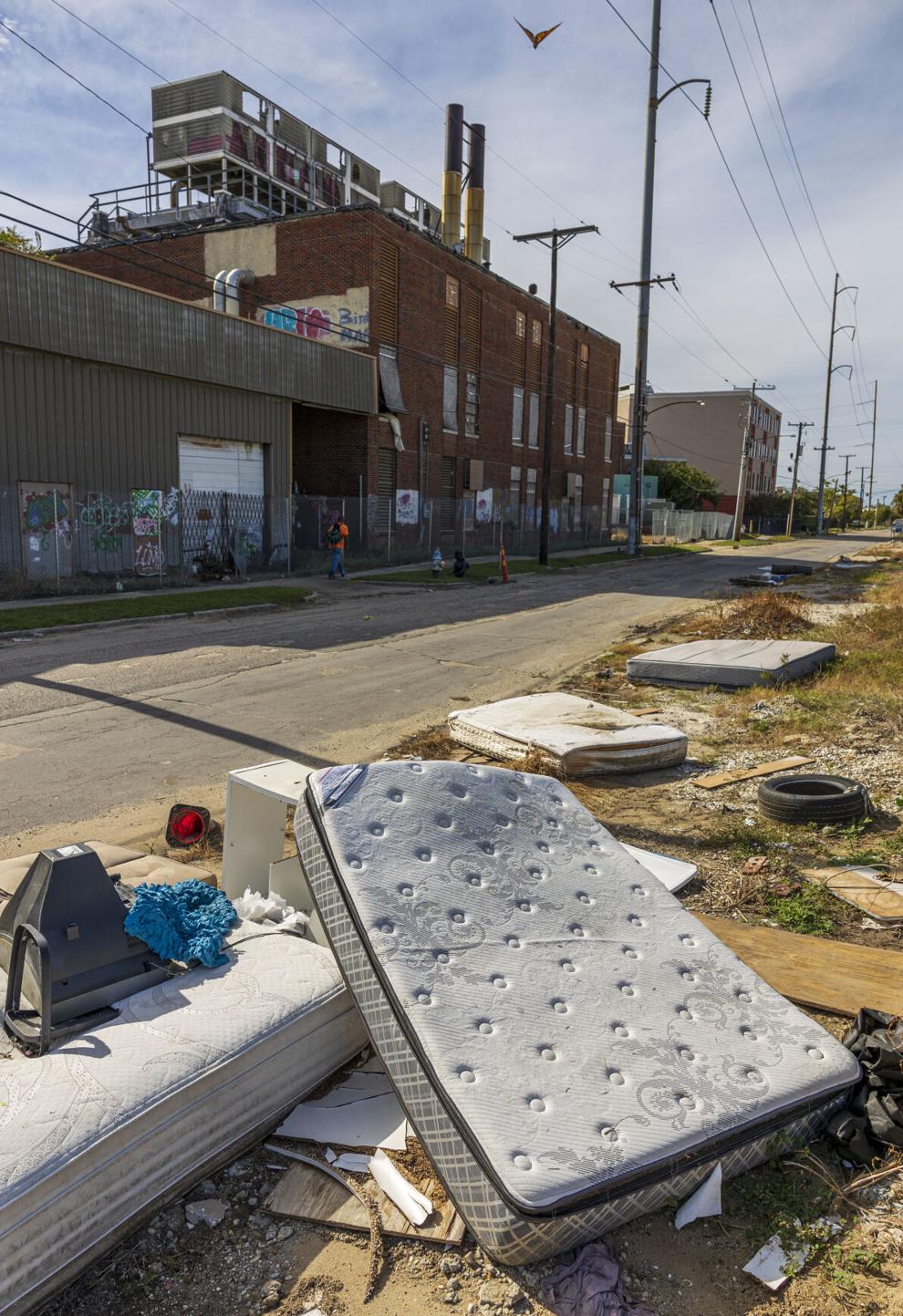 Even though they still hope to do their project, Hoffman acknowledged Woodward also put the building up for sale in case another developer has a better idea or deeper pockets.
"Something has to be done with the building, we can all agree," Hoffman said. "If we can't get it done, we're willing to step aside and let somebody else come in. As of today, we have gotten zero offers from anybody."
He said they haven't put a price on the building and he declined to say how much they paid. Public records show there is a $10 million mortgage on the property, which was recently transferred from Fidelity Bank to an entity owned by Flower.
Demands for more
Ecker said that residents are fed up hearing about plans; they want something done to alleviate the current situation. He noted that some additional fencing and an occasional security patrol have done little to keep out trespassers and vandals.
Hoffman pledged to take further steps by the end of July to secure the site. He said Woodward has commissioned another company to build and install custom 16-gauge metal panels to cover all the windows and other access points on the bottom two floors, after trespassers ripped off wooden covers. He said the new panels would cost a total of $200,000. He didn't comment on a promise to spend $185,000 to deal with the graffiti, which so far has not been fulfilled.
Ecker asked Mulligan how likely it was that the city would take the ultimate measure and order the buildings demolished if the current development failed.
"I want to know the truth," Ecker said. "What can we reasonably expect?"
Mulligan said that while rehabilitation is the current plan, "our concern ultimately is a basic level of safety and security to protect the public," adding, "We have to be considering (demolition) as a possibility."