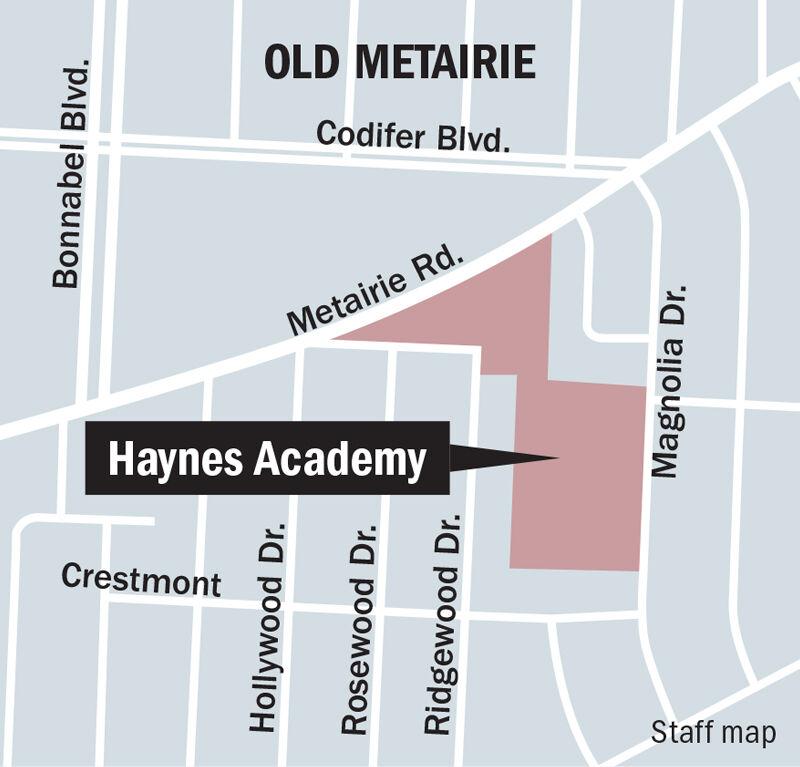 The former Haynes Academy campus is one of several properties that the Jefferson Parish School Board plans to sell, though given its location in the heart of Old Metairie, it's by far the most valuable. 
The neighborhoods surrounding the property are densely populated with households that have among the highest incomes in the New Orleans metropolitan area — making it a draw for both commercial and residential development.
But with drainage in the surrounding area already an issue and traffic on Metairie Road growing worse by the day, anxiety is growing among neighbors that the tract could be redeveloped in a way that lowers their property values and diminishes their quality of life.
On Tuesday, a dozen Old Metairie residents gathered at the home of Harriet "Muffin" Balart, who lives on Ridgewood Drive just behind the Haynes tract, to come up with a strategy for uniting residents so they have a voice in the process. 
"As opposed to coming to the Parish Council meeting and saying, 'We don't want you to do that,' we'd rather be in on the beginning and (are) hoping that we can have some influence on what does or doesn't happen there," Balart said.
At a civic association meeting scheduled for Thursday night, the residents plan to circulate a petition asking for signatures of those who support keeping the property zoned for single-family residential use, or R1-A.
Council approval needed
The tract has yet to go on the market, but developers are already chomping at the bit. School board member Clay Moise told attendees at Tuesday's gatherings that a "national developer" approached him after the last school board meeting to express interest in the site. 
In order for a developer to rezone the property for commercial use, they'd have to get approval from the Parish Council. Traditionally, council members defer to the district council member who represents the property. 
At the moment, that's council member Jennifer Van Vrancken, but she is term limited out of that seat. And given that a request likely wouldn't be filed until next year at the earliest, the decision would likely fall to whoever replaces her in the Oct. 14 election.
Hans Liljeberg, one of two announced candidates for district seat, said, "I'm pretty confident the neighborhood is not going to want anything commercial, so if that's the case, which I suspect it is, I would rule it out." 
Melinda Bourgeois, who is also running for the seat, said she'd talk to the residents before making a decision on whether commercial use is appropriate. 
Proposed study
At Wednesay's Parish Council meeting, council member Dominick Impastato, who is running for one of two parishwide seats, put forward a resolution authorizing the parish's Planning Department to conduct "zoning and/or land use studies" for Haynes and two other school properties up for sale "to protect the integrity of each neighborhood" and "eliminate all potential negative effects that may be caused by future development." 
But Bess Martin, the parish's planning director, noted at the meting that the "resolution in and of itself ... doesn't give me much to do." She said the council would need to pass separate resolutions defining which areas to study for each campus. 
She also questioned the resolution's language regarding the elimination of "all potential negative effects," noting that "defining a negative impact for one person could be different for the other person."
"I don't want to say that we can live up to something that in my view is nearly impossible," Martin said. 
The Parish Council ultimately deferred Impastato's resolution until the June 28 meeting. 
Candidate views
In interviews, the four sitting council members running for the two at-large seats in the October election expressed similar views on the path forward for the Haynes tract. 
"I'll look at anything that comes through, but I'd have a real hard time veering away from R1-A," said council member Scott Walker, the Div. B at-large incumbent. "I'd be very leery about commercial development fronting Metairie Road."
Impastato, who is running against Walker, said "my gut, at this point, is that (commercial use) would be a problem for that area," adding that he would be against a zoning change. 
Van Vrancken, who is running for the council's Div. A at-large seat, said she's "highly opposed" to rezoning the tract and "absolutely 100%" thinks its best the property remain zoned for single-family residential use. 
She said she'd only vote to rezone the property for commercial use "if the neighborhood thinks it makes sense."
Templet, the Div. A at-large incumbent, said he wants to make sure that "we're protecting residents' quality of life" and will defer to residents' wishes on the future of the property. 
Templet is scheduled to discuss his views on the Haynes tract in more detail at the Cottam Park civic association meeting Thursday night at 6 p.m. at Munholland United Methodist Church, located at 1201 Metairie Road.