A 28-year-old Honduran native accused of posing as a 17-year-old student and attending classes at Hahnville High School last school year did so to improve her English, St. Charles Parish Sheriff Greg Champagne said.
Other than allegedly submitting fraudulent documents to enroll, authorities said during a news conference Wednesday that they don't believe Martha Jessenia Gutierrez Serrano committed any other crimes or engaged in any other inappropriate behavior involving students.
"We have no information that there was any nefarious purpose other than the young woman wanted to become proficient in English," Champagne said.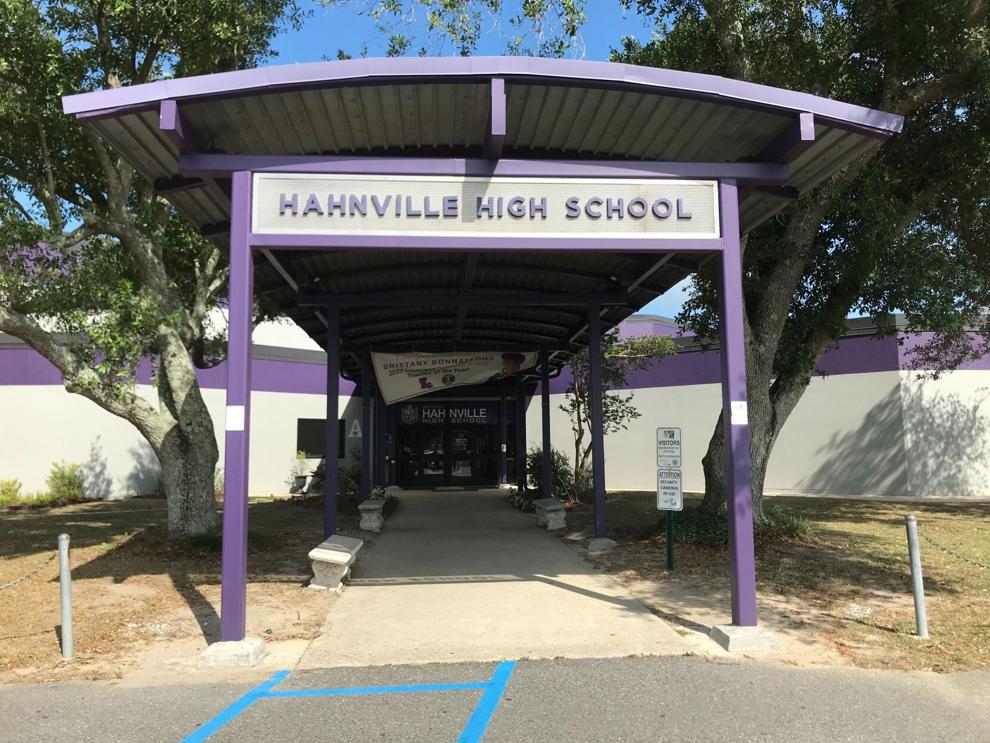 Gutierrez and her mother, Marta Elizeth Serrano Alvarado, 46, were arrested Tuesday and booked with one count of injuring public records.
Authorities allege Serrano enrolled her daughter at Hahnville High on June 18, 2022, using a counterfeit birth certificate from Honduras that identified Gutierrez as being 17 years old.
School system staffers followed established district policies and procedures in registering Gutierrez, St. Charles Parish Schools Superintendent Ken Oertling said.
Because she had no transcripts, she was placed in the 9th grade. Gutierrez, from Boutte, took a school bus to Hahnville High but was not involved in any extracurricular activities, authorities said.
Near the end of the 2022-2023 school year, district administrators received a tip that a female student at Hahnville may actually be in her mid-20s. School officials opened an internal investigation and reached out to the Sheriff's Office on May 29. The school year ended May 25.
Detectives determined that the documents submitted by Serrano were fraudulent, according to Champagne. After a little more digging, they learned that while Serrano had been in the United States for several years, Gutierrez entered the country in 2021 in New Mexico. She was processed by the U.S. government and released.
Champagne said he saw a photo taken of Gutierrez when she entered the country.
"She can very easily be taken for a young teenager, without a doubt," he said.
Word of the women's arrests spread quickly in the St. Charles Parish Tuesday evening, leaving Hahnville parents anxious over how an adult managed to fool school officials for so long, why she would have done so and what interactions she may have had with other students.  
"It's totally crazy," said Fany Garay, 34, whose son is a rising junior at Hahnville High. He didn't know Gutierrez, she said. 
Champagne wanted to assure the public that nothing untoward occurred at the high school involving Gutierrez. 
"She was in school. She minded her own business. She did her schoolwork. She caused no trouble," Champagne said.
Getting an education and bettering one's grasp on the English language are admirable pursuits, authorities said. But you can't defraud the government to do so. 
"ESL [English as a second language classes] and a GED may not have been as convenient as a public high school two miles away, but those options are available," Champagne said.
As for the district, Oertling said staffers are conducting an audit of enrollment documents for students. That review could include students previously enrolled in the school system, he said. 
The district also intends to provide training for staffers so that they can recognize the signs or potentially fraudulent documents in the future. 
"It's my hope that this incident will bring awareness to other school systems for the need to review and enhance their student enrollment practices," Oertling said. 
Gutierrez and her mother were booked into the Nelson Coleman Correctional Center in Killona. They were released on $30,000 bond, Champagne said.